Your Pets are Family!
You consider your pets to be members of your family, and you do your very best to keep them safe and healthy. Unfortunately, like with your two-legged family members, no matter how careful you are, accidents do happen.
If one of these emergencies happened to your furry family member,
would you know what to do?
Your dog is playing with a toy and suddenly starts choking…

Your new kitten bites into an extension cord, is shocked and stops breathing….

Your puppy gets into your pill organizer and ingests your prescription medication…

Your cat gets into a fight with another cat and is bleeding from a laceration…

There is no 911 for Pets!
Unlike emergencies with your two-legged family members, you can't call 911 and have paramedics rush to help if something happens to your pet. YOU have to be your pet's First Responder!!
With a Pet Tech® class from Pet Emergency Training, LLC, you WILL learn what to do if your pet has a medical emergency, and also what you can do to keep your furry family members as safe and healthy as possible.
Your Pets Depend on You to Keep them Safe!
Your pets give you unconditional love and companionship. They are always there for you. Let Pet Emergency Training teach you the skills and knowledge that will enable you to be there for your pets when they need you the most!
When you Take a Pet Tech PetSaver Class from Pet Emergency Training, LLC here's what you will learn:
Injury & Wellness Assessment
Restraining/muzzling your pet
Rescue Breathing
Pet CPR
Bleeding Protocols
Choking Management
Heat & Cold Injuries

Bites & Stings
Poisoning
Seizures
Fractures & Limb Injuries
Pet First Aid Kit Contents
Senior Pet Care
Dental Care
According to the American Animal Hospital Association (AAHA), 1 out of 4 more pets would survive if one pet first aid technique was applied prior to getting emergency veterinary care.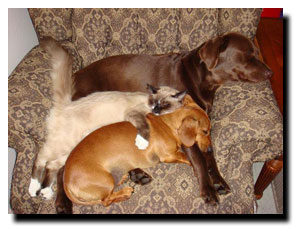 Take a Pet CPR and First Aid class,
and your pets will sleep easier
knowing they can count on you in an emergency!