About Pet Emergency Training, LLC
About Karen Sable, your instructor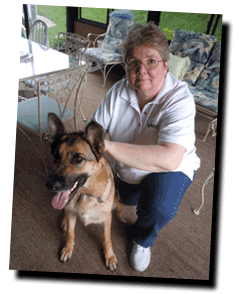 Karen Sable, owner of Pet Emergency Training, LLC, completed the Pet Tech Instructor program in March, 2011. Karen is a trained responder with two national animal emergency response/rescue teams: American Humane's Red Star Animal Emergency Services Team, and Red Rover (formerly United Animal Nations Emergency Animal Rescue Service). She is also a member of the Westmoreland County Animal Response Team and the Coordinator of their Pet Oxygen Mask Program,  a volunteer with the Homeless Cat Management Team, and an animal rescue transporter.
In addition to having a Veterinary Assistant diploma, Karen's training certifications include Emergency Animal Sheltering, Large Animal Rescue, Animals in Disaster, Livestock in Disaster, Water Rescue, Hazardous Materials, Incident Command and National Incident Management.
As a former healthcare Human Resources Director, Karen now devotes her extensive training experience, and love of animals, to teaching pet care professionals and fellow pet parents the skills and knowledge that can save their pets and improve the quality of their pets' lives.
About Pet Tech
Pet Tech is the first international training center dedicated to  CPR, First Aid & Care for dogs and cats. Pet Tech has been teaching pet owners and pet care professionals the important life saving skills of Pet CPR and First Aid since 1997.  Through education and training, Pet Tech promotes safety and responsible pet ownership. The Pet Tech programs are the "Gold Standard" for Pet CPR, First Aid, and Care training and are "Improving the quality of pets' lives, one pet owner at a time."
Visit their website at www.PetTech.net.